Investor Relations
Welcome to the Resort Lifestyle Communities investor webpage. Whether you are a lender or an investor, we consider you our partner in achieving our business goals.
Resort Lifestyle Communities, its sister Cameron General Contractors, and each of its employees are solely focused on providing each individual resident in our retirement communities with a safe, comfortable, and rewarding living experience.
We are a wholly vertically integrated organization dedicated to the development, design, construction, management, and long-term ownership of senior Independent Living ("IL") communities located throughout the United States. We believe that the cost savings such an arrangement brings to each separate community affords us a significant competitive advantage. Most importantly, we believe that the quality and attention to detail each community receives from development conception, construction through the day-to-day operations is what truly distinguishes us from other senior housing communities.
Our organizational philosophy is to provide total transparency to our investors and lending partners. We believe that such a focus is, at the least, what our partners deserve and expect. Accordingly, we are pleased to provide you with the link above to our corporate server that allows you to access, in real time, our proprietary prospect management system to view community occupancy to measure our progress. This information is updated in real time as activity occurs. If you have any questions or comments, you are very welcome to visit us in our offices at 7101 S. 82nd St., Lincoln, Nebraska or you may contact us by phone at 402-420-2311 or by email at mmaude@rlcommunities.com
Matt Maude
Chief Financial Officer
Resort Lifestyle Communities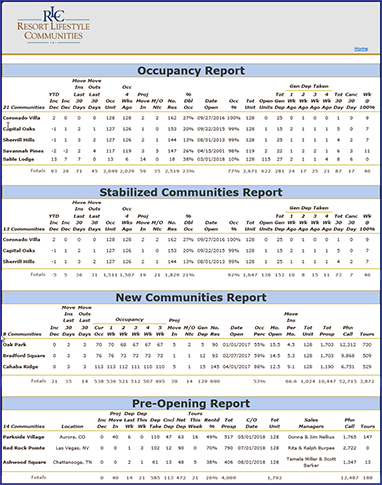 Log in for your Community Occupancy Report